Access-IS, headquartered in Reading (UK), is at the forefront of the development of innovative electronic systems specialising in image processing, RFID/NFC technology, barcode reading and specialist keyboards. Access-IS are dedicated to manufacturing products designed to accurately capture and transfer information into electronic systems.

Access-IS operates in over 72 countries around the globe in four highly specialised verticals; Airline/Airport, ID & Security, Transport Ticketing and specialist custom keyboards. Our products are now the 'de-facto' standard for some of the largest banks, airlines, transport systems and retailers in the world, the product range includes boarding gate readers, a wide range of document readers for ID document capture and scanning and ticket readers for ground transport and access control.
Access-IS products are designed to read e-Passport, e-ID and e-DL for governmental and commercial applications. From the world's smallest OEM OCR reader to our advanced full-page passport reader, we have a product for every application; Border control, Immigration, Document Issuance, Law Enforcement, Banking, Retail, Data Capture, KYC or Anti-Money Laundering and Age Verification.
High-performance barcode readers for reading all media types in a variety of situations. They are designed for desktop applications requiring reliable, one-touch barcode reading, and for easy integration into self-service gates and kiosks.
All of our readers are equipped to read 2D barcode symbologies, including QR and AZTEC. There is usually an option for NFC/RFID functionality, for contactless reading of NFC-enabled smartphones, smart cards and travel tickets.
Their range of identity authentication & verification products includes e-passport, e-ID and e-driving license readers for government and commercial applications.
From the world's smallest OEM OCR reader (for integration into mobile devices) to advanced passport readers, Access-IS products are designed for applications such as border control, immigration, document issuance, law enforcement, banking, gaming, retail, KYC and anti-money laundering.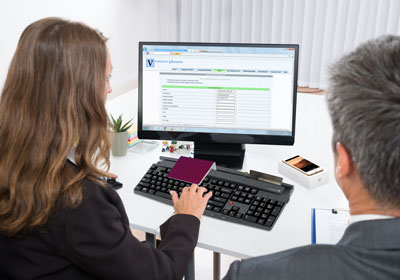 Rugged and highly reliable keyboards with data-reading functionality – both custom keyboards that satisfy customer-specific requirements and applications, and multi-function integrated keyboards.