OKW was founded in 1984 as an independent distribution company in Germany. OKW represents high functionality and innovation, aesthetic design and user-friendly color choice, convincing ergonomics, outstanding quality and partnership. OKW Gehäusesysteme and knobs are available in almost all countries and application areas all over the world, for example, in the measurement and control equipment, medical and laboratory technology, data communication as well as heating, air-conditioning and ventilation technology.
The OKW range of plastic enclosures covers many different applications, for example, handheld enclosures, wall mount enclosures, flush mounting / DIN rail enclosures, desktop enclosures, table top enclosures, instrument enclosures, standard mounting rail enclosures etc. Choose the enclosure whose design, size and configuration best meet your particular requirements. Modern electronics packaging by OKW is characterized by ergonomic design, user-oriented functionality and high-quality molding and finishes.  With all conceivable technologies available in-house, we can finish and process the plastic enclosures and adapt them to your requirements.
Enclosures for suspension arm systems
Enclosures for suspension arm systems
Desktop / Keyboard housings
Table-top / Instrument enclosures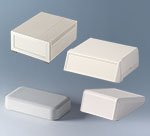 Portable Instrument enclosures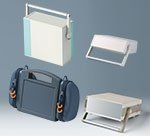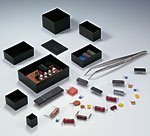 Accessoires for enclosures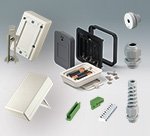 Award winning extruded aluminium enclosures with plastic top and base panels.
OKW Gehäusesysteme has over 40 years' experience in the development and production of potentiometer knobs. Today OKW can offer a wide range of modern and traditional tuning knob designs for spindles from 3 to 8 mm. OKW´s latest operating elements combine special technical features with a contemporary appearance. This includes optional LED illumination, flush-fitting installation, a main body which is slightly inclined towards the internal axis, function-oriented marking elements, modern colour selection etc.
Tateral screw fixing knobs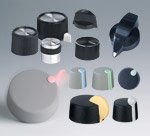 Tuning knobs with LED illumination
Tuning knobs with collet fixture
Puning knobs with collet fixture
Their range of mechanical and electronic components comprises a wide selection of tuning knobs for rotary potentiometers or rotary pulse generators with round shaft ends in accordance with DIN 41591, or flattened shaft ends ø 6/4.6 mm – also available with touch function and optional illumination. In addition, the range includes PCB terminal blocks, plug headers, contacts for charging current and data transmission as well as customer-specific membrane keyboards as individual additions.