SiTime Corporation, a MEMS and analog semiconductor company and a wholly owned subsidiary of MegaChips Corporation offers MEMS-based silicon timing solutions that replace legacy quartz products. SiTime products are used in all major market segments like networking, computing, telecommunication, mobile phones and much more.
SiTime has transformed the timing market. For the past several decades, quartz crystal based oscillators and resonators were the primary reference timing components in electronics. As there were no alternatives, OEMs and ODMs accepted the inherent limitations of quartz timing devices. Now, with robust MEMS resonators and high-performance analog ICs, SiTime has developed breakthrough solutions that overcome the limitations of quartz devices.
SiTime makes it easy for OEMs and ODMs to use SiTime products. Our QFN oscillators are 100% drop-in replacements for quartz oscillators without requiring any board changes.
SiTime offers the broadest portfolio of timing products in the industry. With over 50 base product families based on a programmable architecture and an extensive feature set, we offer over 200,000 parts. Our MEMS-based timing solutions replace legacy quartz products because they offer higher performance, smaller size, lower power, and better quality, reliability and robustness.
MEMS Oscillators
Broadest product portfolio 

Programmable architecture –

over 50 core products generate 200K part numbers

More features, shortest lead times

Unique, MEMS-based timing products

Highest performance (stability, jitter)

Smallest size (1.5 x 0.8 mm)

Lowest power (900 nA typ. – 32 kHz) 

Best reliability (over 1,000 Million hours MTBF)

Best robustness (50K g shock and 70 g vibration)

Best quality (2 DPPM over 700MU shipped)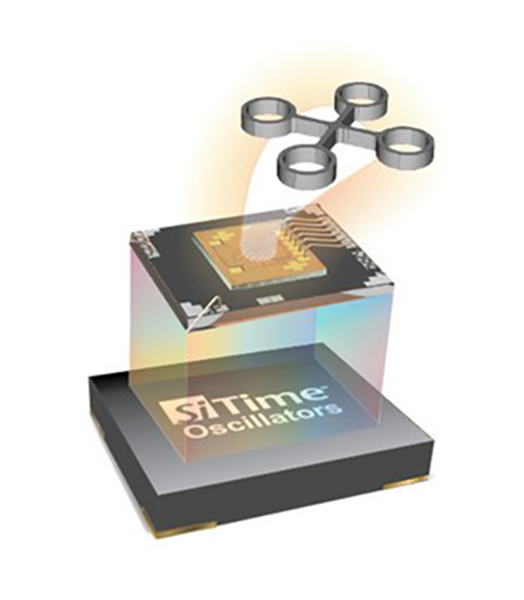 Time Machine
Program any
Frequency
Stability
Supply voltage
Of field programmable oscillators using the Time Machine II programmer