Standex-Meder Electronics is a leading manufacturer of Reed Switches, Reed Relay and Reed Sensors. The privately held firm staffed with over 450 dedicated to the quality and meeting the demands of their customers was started in 1981 and brings twenty five yeas of experience in design and manufacture with locations in Germany (Singen/Htwl. and Großbreitenbach in Thuringia), the USA (West Wareham) and China (Shanghai). Standex-Meder is supported by a large number of highly qualified suppliers worldwide, resulting from years of intense collaboration.
Standex-Meder's top aim is not only the first-class quality of our products, but also the close relationships with our customers. For this purpose, MEDER has densely situated subsidiaries all over the world. In Europe, MEDER's head offices are located in Singen in Germany, Milan in Italy, Villejust in France, Leeds in England. Theses offices are further strengthened with branches in Hong Kong, in Shanghai, China and West Wareham in the USA, as well as aworldwide network of stocking distributors and technical representatives who provide design assistance, service.
Standex-Meder supplies fluid sensors & floats that use a wide range of technologies – from magnetic Reed Switch technology to conductive technology.
Standex-Meder Hall Effect Sensors offer solid state reliability, low power consumption, and consistent activation points over a wide temperature range in a rugged and environmentally isolated package.
Standex-Meder planar magnetics include planar transformers and planar inductors available in a variety of standard core sizes with custom configurations.
Standex-Meder Electronics' ATC-Frost Magnetics Division offers a broad range of standard and custom power magnetics to fit most any need in low frequency (50/60Hz to 400Hz range) and high frequency (20 KHz to RF range).
Reed relays contain an electromagnetic coil and reed switch. When power is applied to the coil, the reed switch is activated.
Reed sensors when paired with permanent magnets present an ideal method of sensing and detecting movement, proximity, metal detection, and liquid level and flow measurement.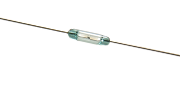 Standex-Meder offers the most comprehensive listing of magnetic reed switches that cover the majority of low power switching requirements.