Silicone-free and dispensable: MTC introduces a new 1K gap filler for optimized heat management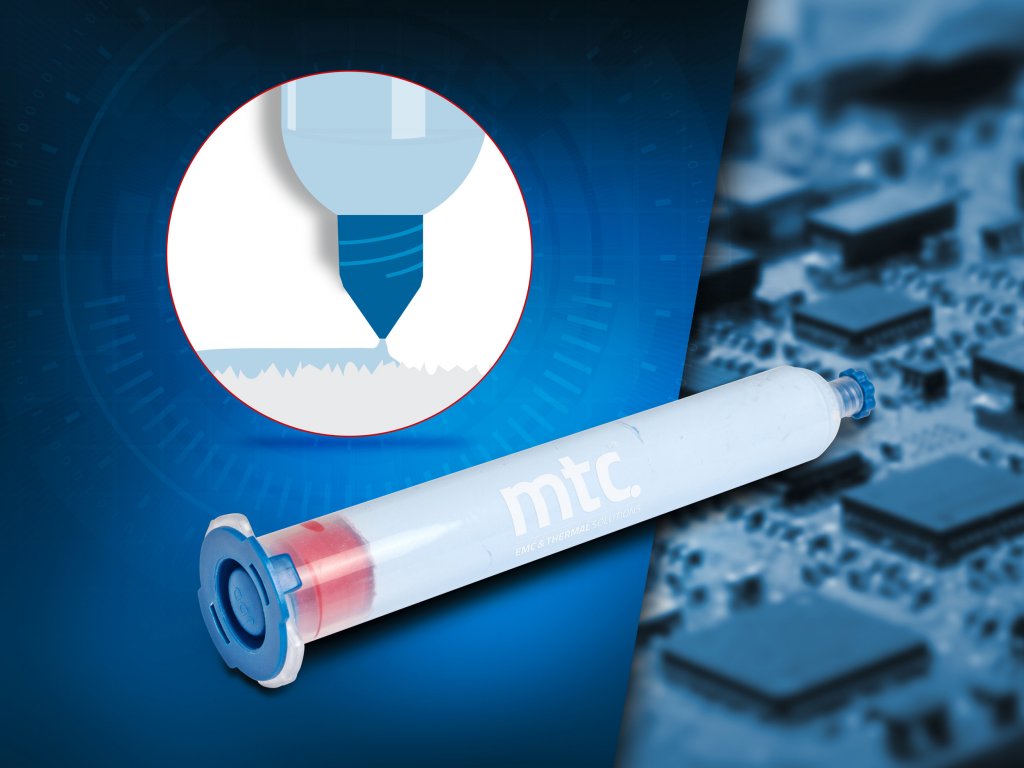 With the new TCTP series, MTC Micro Tech Components GmbH presents a silicone-free, thermally conductive one-component gap filler based on acrylic. The dispensable paste offers a very high thermal conductivity and can be used in applications where the use of silicone is critical. For example, at car manufacturers it is imperative to avoid silicone, because of outgassing issues, until the end of painting plant. This is to ensure the optimum adhesion of the paint and to prevent paint wetting problems.
In the electrical and electronics industry, all contacts (e.g. switches and relays) are affected because the volatile constituents of silicone settle on the contact surfaces and can have an electrically insulating effect, which can lead to malfunctions of such components.
The silicone-free 1K gap filler TCTP is designed for a wide working range in temperature from -40 to +130 °C. It is ideal for effective heat dissipation of electrical or electronic components in a variety of application areas, such as Industry 4.0 / IoT, automotive, power electronics, energy storage, rail technology, telecommunications, LED lighting, medical technology, industrial computers, and so on.
Thermal connection and optimized heat management
The pasty high-performance gap filler TCTP is available in standard cartridges for manual or automated dispensing in dosing devices. This means that particularly thin adhesive joints can be applied, which ensure the seamless thermal connection between the heat source (component e.g. processor) and the heat sink (heat sink, circuit board or chassis). Even with complex designs, the flexible 1-component gap filler compensates air gaps, uneven surfaces and component tolerances up to 3 mm, so that effective cooling can be achieved.
The dispensable paste also gives the developer greater freedom in designing the spacing and shape of the heat-conducting material. The new silicone-free TCTP series from MTC achieves a high thermal conductivity of up to 5.0W/mK (watts per meter and Kelvin). Without using the 1K gap filler material, only air, with an extremely low thermal conductivity (0,0262W/mK), would be available for the heat transfer. Even smooth-appearing contact surfaces between the heat source and the heat sink actually only touch about 20%. These micro bumps and bulges form heat-insulating air cavities. Due to the use of the thermally highly conductive 1K-Gap-Filler material, the heat dissipation is optimized. The RGT rule illustrates how essential
optimal heat management and protection against overheating is for the lifespan of electronic components, which simply states that if the operating temperature is reduced by 10K, the lifespan roughly doubles.
High shape adaptability for sensitive assemblies
The dispensable and silicone-free 1K gap filler from MTC enables the establishment of highly thermally conductive form-in-place connections. The pasty heat-conducting material adapts flexibly to the respective surfaces and component shape, has a very good compressibility and convinces with excellent dosing properties. Since when assembling the cooling device the full thermal conductivity is achieved with very low contact pressure and also permanently low mechanical forces act on components and circuit boards. The TCTP series is particularly suitable for use with sensitive component groups, but also for plug-in cooling solutions with low clamping forces.
High security and durability
The silicone-free 1-component gap filler remains tough and elastic even after curing at room temperature, does not dry out and is resistant to water and most acids, alkalis and organic substances. Unopened cartridges can be stored for up to 12 months (shelf life). In regard to flammability, the TCTP series is certified according to UL 94 with a flammability classification of V-0. Thermally conductive materials from MTC meet the highest quality and safety standards for reliable and long-term use and are subject to strict controls during production.
Optional with insulating glass beads
For electrical isolation and as a spacer between the heat source and the heat sink, MTC offers the silicone-free 1K-Gap-Filler TCTP optionally with added glass beads, which ensure a minimum insolation distance and thus avoid short circuits.

Comprehensive product portfolio and technical services
In addition to the presented silicone-free 1K gap fillers of the TCTP series, MTC Micro Tech Components GmbH also offers silicone-free gap pads (TCGF series) with an equally high thermal conductivity of up to 5.0 W / mK and material thicknesses of 0.5 – 5 mm. In addition, the product portfolio of thermally conductive materials includes industrial thermal pastes, thermally conductive insulators and double-sided adhesive tapes, phase change materials (PCM) and graphite foils. Moreover, MTC is also a producer and solution provider for components in the field of EMC (electromagnetic compatibility).
For the successful implementation of complex and demanding applications, customers and system developers benefit from comprehensive services, many years of experience and extensive know-how. MTC Micro Tech Components GmbH, headquartered in Dillingen / Donau, Bavaria, convinces customer as a global supplier for almost all industrial sectors with its own development and laboratory capacities as well as production and sales locations in Germany, Hong Kong and South Korea,
Direct link to the product "Silicone-free 1K gap filler / TCTP series":
https://www.mtc.de/de/thermisch-leitende-materialien/standard-kundenspezifische-gap-filler/1k2k-gap-filler
All advantages of the TCTP series at a glance:
Silicone-free 1K gap filler based on acrylic
Delivery form: cartridge
High thermal conductivity
(3.0 W / mK and 5.0 W / mK available)
Silicone free
Dispensable and suitable for automatic dosing devices
Easy application
Does not dry out
Good compressibility
Natural stickiness and low contact resistance
Also available with glass beads as a spacer
Photo credit:
Product images © MTC Micro Tech Components GmbH
Printed circuit board © Gudellaphoto / Adobe Stock