The Austrian Federal Ministry for Digitization and Business Location awards Ineltro Electronics the national coat of arms of the Austrian republic for special services to the Austrian economy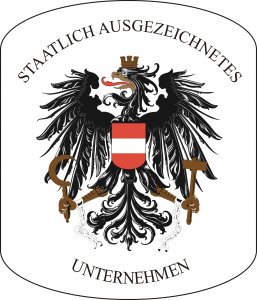 In November 2021 Ineltro Electronics received a special honor: Federal Minister Dr. Margarete Schramböck awarded the company the national coat of arms of the Republic of Austria. We are now allowed to use this in a variety of ways in business communications.
The requirements for being awarded the national coat of arms are:
Exceptional services for the Austrian economy must be provided and proven, as well as
a leading position in the relevant branch of industry
The official award says that the coat of arms should be an encouragement to continue on the road to success through innovation, courage and quality – we feel more than encouraged and will continue working by these values ​​every day.
The award ceremony in the Federal Ministry's is expected to take place in spring 2022.